Wear of Materials 2021
23rd International Conference on Wear of Materials: Online
26-29 April 2021 | Online – Live and on-demand
View the Ken Ludema Best Paper Award winners!
View the Peter Blau Best Poster Award Winners!
The conference will take place in EDT (Eastern Daylight Time)
Guidelines for poster and oral presenters will be available soon.
In 2021 the 23rd International Conference on Wear of Materials and the 5th International Conference on BioTribology will join forces to develop an online integrated program that allows delegates to participate at both conferences, switch easily between lectures and broaden their research and professional network.
Join us online: same great content – now online
The online joint conference of 23rd International Conference Wear of Materials and 5th International Conference on BioTribology will take place as a live-streamed and interactive event at 9:30 – 14:00 EDT, from 26-29 April 2021.
Register now to participate in an interactive conference experience direct from your desktop or mobile device: live-stream presentations and take part in discussion through live chat and Q&A.
Registration deadline for live participation (non-presenting delegates): 11:59 EDT, 23 April 2021
Your registration includes on-demand access for 6 months (from one day after the conference).
Participate live from your desktop or mobile device to: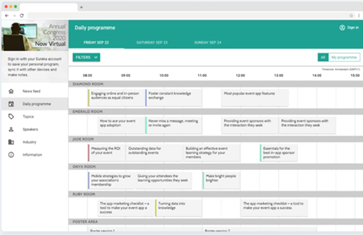 Deepen your knowledge: Live-stream a personalised schedule from the entire programme to match your research interests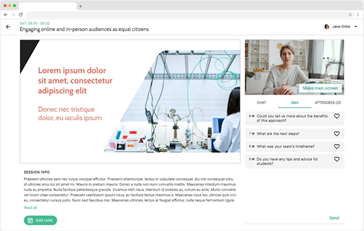 Engage with our inspirational speakers and other attendees during the live-streamed sessions: Ask questions and participate in live chat and polls.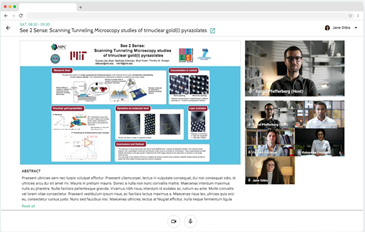 Review the latest research in the ePoster hall and discuss directly with the author in the live poster sessions.
Plus:
Network with your peers, meet new contacts and renew relationships: Connect with other attendees during the live event to chat and arrange one-to-one meetings.
Connect with a wider, more-inclusive audience: our lower fees, online delivery and post-event on-demand access will make the event more accessible to all.
Visit the live exhibition booths to meet industry partners, chat with exhibitors and learn more about their products.
Enjoy more flexibility with on-demand access to recorded sessions for 6 months after the event*. Watch one stream live and catch-up on what you missed after the event.
* On-demand access includes recordings of talks and slides, poster pitches and posters from authors that have agreed for post event distribution: the organisers cannot guarantee on-demand access to all presentations.
Want to know more? Visit our FAQs.
2-minute read: How to optimise your online conference experience
The conference will focus on advances in the understanding of both the fundamental and applied aspects of wear and friction of materials and will provide a forum for researchers and practicing engineers from different disciplines to interact and exchange their latest understandings. The conference is also unique for its paper submission process with full peer review in collaboration with the Elsevier journal Wear to ensure technical quality of presentations.
This edition of the conference will include special sessions on wear and related topics in aviation and aerospace applications, renewable and sustainable technologies, biotribology, engine tribology, tool wear, modeling and simulation and surface texturing for wear reduction. A full list of topical areas are listed below.
Conference Topics:
Abrasive Wear
*NEW Aviation and Aerospace Wear
Biotribology
Ceramics and CMCs
Coatings and Surface Treatment
Cutting and Tool Wear
Elevated Temperature Wear
Engine Tribology
Erosion and Erosion-Impact
Fretting Wear
Lubricated Wear, Scuffing, Rolling
Metals and MMCs
Modeling and Simulation
Polymers and PMCs, Friction Materials
Role of Third Bodies
Sliding Wear
Surface Texturing
Tribocorrosion (including erosion-corrosion)
*NEW Wear in Renewable and Sustainable Technologies
Wear Testing and Monitoring
Wheel/Rail Contact
Other topics
Speakers
---
Committee
---
Conference Chair
Sriram Sundararajan, Iowa State University, USA
Program Chair
Jun Qu, Oak Ridge National Laboratory, USA
Editorial Chair
Martin Dienwiebel, KIT and Fraunhofer IWM, Germany
Editorial Co-Chair
Stefanie Hanke, University Duisburg-Essen, Germany
Secretary
Richard Chromik, McGill University, Quebec, Canada
Treasurer
Steve Shaffer, Shaffer Tribology Consulting, CA, USA
Liaisons for the journal Wear
Marcello Papini, Ryerson University, Canada
Alfons Fischer, Max-Planck-Institute for Eisenforschung, Germany
Immediate Past Chair
Thomas Scharf, University of North Texas, TX, USA
Conference Historian
Publicity Chair
Laura Peña Parás, Universidad de Monterrey, Mexico
Poster Co-Chairs
Stefanie Hanke, University Duisburg-Essen, Germany
Wenjun Cai,Virginia Tech, VA, USA
Awards Chair
Richard Chromick, McGill University, Quebec, Canada
Tutorial Chair
Mark Gee, National Physical Lab (NPL), UK Tutorial Session
Exhibit Advisor
Ken Budinski, Bud Labs, USA
Session Co-Coordinators: Abrasive Wear
Alfons Fischer, Max-Planck Institute for Iron Research, Düsseldorf, Germany
Carsten Gachot, TU Wien, Vienna, Austria
Session Co-Coordinator: Biotribology
Markus A. Wimmer, Rush University Medical University, Chicago, USA
Session Co-Coordinator: Ceramics and CMCs
Thomas Scharf, University of North Texas, TX, USA
Session Co-Coordinators: Surface Texturing
Carsten Gachot, TU Wien, Vienna, Austria
Patricia Iglesias, Rochester Institute of Technology, Rochester, USA
Session Co-Coordinator: Coatings and Surface Treatment
Sriram Sundararajan, Iowa State University, USA
Session Co-Coordinator: Cutting and Tool Wear
Dirk Biermann, TU Dortmund, Dortmund, Germany
Session Co-Coordinator: Elevated Temperature Wear
Jens Hardell, Luleå University of Technology, Luleå, Sweden
Session Co-Coordinator: Engine Tribology
Peter Lee, Southwest Research Institute, TX, USA
Session Co-Coordinators: Erosion and Erosion-Impact
Robert Wood, University of Southampton, UK
Stefanie Hanke, Universitat Duisburg-Essen, Germany
Session Co-Coordinator: Fretting Wear, Friction and Wear under Vibratory
Siegfried Fouvry, Ecole Centrale Lyon, France
Session Co-Coordinators: Lubricated Wear, Scuffing, Rolling
Jun Qu, Oak Ridge National Laboratory, USA
Mitjan Kalin, University of Ljublijana, Ljublijana, Slovenia
Session Co-Coordinator: Metals and MMCs
Sebastian Weber, University of Wuppertal, Wuppertal, Germany
Session Co-Coordinator: Modeling and Simulation
Gianandrea Vittorio Messa, Politecnico di Milano, Italy
Session Co-Coordinator: Polymers and PMCs, Friction Materials
Emile van der Heide, Universiteit Twente, Enschede, The Netherlands
Session Co-Coordinator: Renewable Energy Applications
Martin Dienwiebel, KIT and Fraunhofer IWM, Germany
Session Co-Coordinator: Role of Third Bodies
Sylvie Descartes, INSA Lyon, France
Session Co-Coordinators: Sliding Wear
Richard Chromick, McGill University, Quebec, Canada
Jun Qu, Oak Ridge National Laboratory, USA
Session Co-Coordinators: Tribocorrosion (including erosion-corrosion)
Anna Igual Munoz, École polytechnique fédérale de Lausanne, Lausanne, Switzerland
Stefano Mischler, École polytechnique fédérale de Lausanne, Lausanne, Switzerland
Session Co-Coordinator: Wear Testing and Monitoring
Mark Gee, National Physical Lab (NPL), UK
Session Co-Coordinators: Wheel/Rail Contact
Laura Peña Parás, Universidad de Monterrey, Mexico
Sylvie Descartes, INSA Lyon, France
Session Co-Coordinator: Aviation and Aerospace Wear
Pantcho Stoyanov (Pratt & Whitney), United Technologies Corporation - Pratt & Whitney, East Hartford, USA
Join the Conversation

#23WOM21